Navrung Healing Institute-
Deal Ending in 3 days!
Back pain, Sciatica, Frozen shoulders, Migraines, arthritis, plantar Fasciitis, common cold, cough, fever, and more. DO IT YOURSELF.
Register today to get your deal. Classes starting soon. Pick the class of your choice by clicking the Registration Button. Check mark the class you are interested in, in the form you will find the payment link. Select Short courses. Once you have registered and paid, you will receive a ZOOM link to attend the class. For questions contact us.
Color Therapy – Sept. 15th, 16th, and 17th Time: 7 pm to 8 pm
Seed therapy – Sept. 19th and 20th Time: 10 am to 11 am
Sujok Basic – Sept. 26th to 1st Oct. Time: 6:30 pm to 8 pm
Cultivate a healthy body, letting it rejuvenate by letting it loose, and feel light and relaxed.
The most commonly used therapeutic magnets range from about 200 to 3,000 gauss at the surface. Byol magnets are used to treat here which are of minimum Gauss. Magnetic field therapy uses different kinds of magnets on the body to help boost your overall health. It may also help treat certain conditions.
Therapeutic Reflexology not only helps maintain the health when doe regularly, it also helps promoting better health and preventing illness, relieving the symptoms of stress, injury improving your mood.
Meditation has been practiced all over the world for thousands of years. Meditation is shown to thicken the pre-frontal cortex. This brain center manages higher order brain function, like increased awareness, concentration, and decision making. Changes in the brain show, with meditation, higher-order functions become stronger, while lower-order brain activities decrease.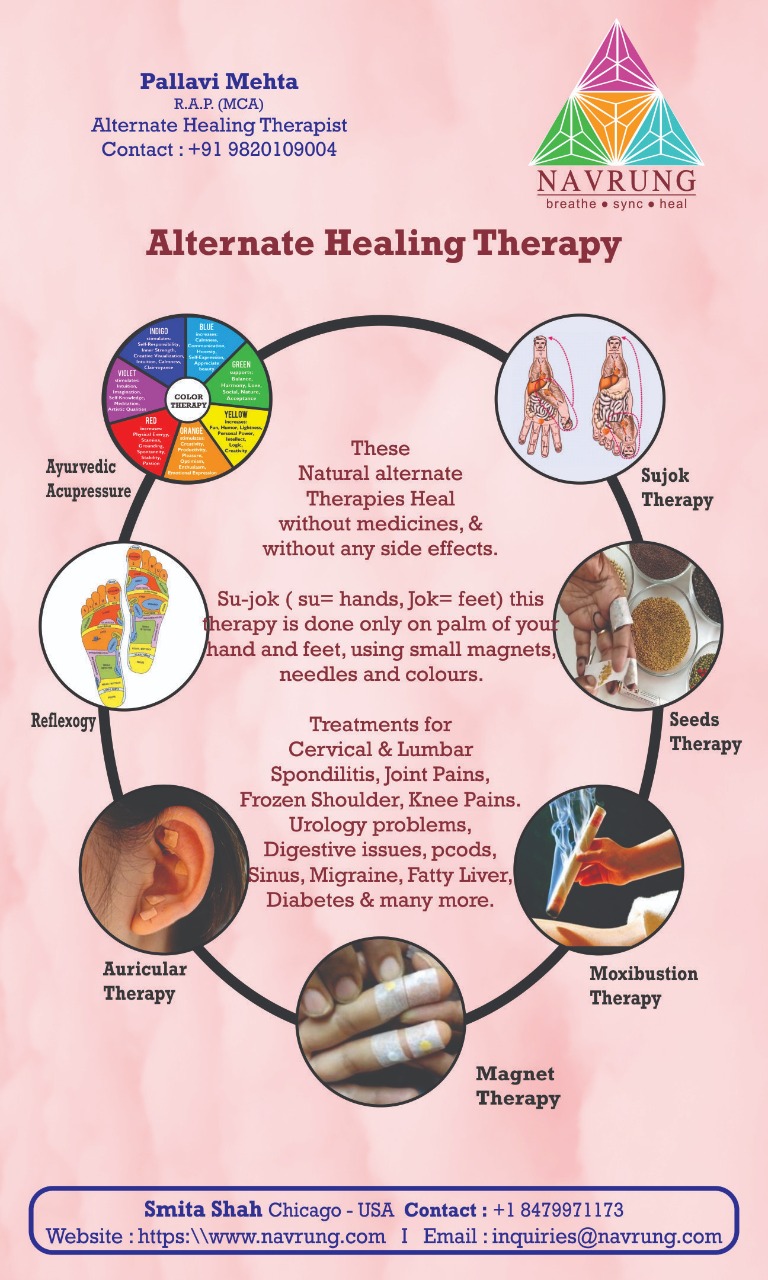 Stress & pain relief through Acupressure, Aromatherapy, reflexology and more
We specialize in back pain, sciatica, frozen shoulders, bursitis.
Eliminate blockages that produce pain or disease. Bring the body into balance.
Using Sujok as a Natural Therapy of healing.
Workshops on DIY, Meditation, Reflexology and more
About the different holistic therapies that we offer
Smita and her daughter were exceptional! They went above and beyond for the mendhi for my wedding and Sangeet. Turned out great.
By using her Accupressure and Reflexology knowledge, Smita Shah has worked on my shoulders and my back to relieve me of pain.
I was impressed not only by the beautiful mehendi that you did but also by all the other things you are doing. Excellent Service!
"Begin your journey to a better life with peace, calm, clarity and happiness"
Harmonize your body, mind and inner self.
GPS to healthy Mind, healthy Body and a healthy Soul 
Breath in healthy happy and positive energy.  Then Sync it with your Mind, Body and Soul. Healing will happen as you follow the first 2 steps.
Transform your body, mind, and life today.. Contact us to schedule an appointment
$25 Non-refundable fees, Click on the Registration Fees Button.
For Class admission click on the Class registration "Click here" link
Intro to Basic Reflexology
I. Duration: 7 days 1.5 hrs. each session
II. Purpose
A. Understanding the history, principles, basics, and safety of reflexology
III. Learning objectives
A. Basic chart theory
B. Knowing the basic zones and contraindications of reflexology
C. How to control reactions to reflexology
D. Establishing basic reason for treatment
E. Understanding desired outcomes for treatment
F. Learning practical techniques of basic reflexology
G. Demonstrating practical techniques of basic reflexology
H. Professional ethics, confidentiality, and hygiene
IV. Requirements for Certification
A. Submission log of 100 treatment sessions
B. Written test 25 multiple choice and one scenario with a passing grade of 75% or higher
Advanced Reflexology
I. Duration: 5 days 3 hrs. each session
II. Purpose
A. Understanding the history, principles, basics, and safety of reflexology
III. Learning objectives
A. Practical reflexology – the five-step approach Contraindications
B. The feet and Hand reflexology
C. Client consultation
D. Basic Anatomy and Physiology of the body
E. Observation of client and feet
F. Assessing the client's treatment needs – three paths to understanding
G. Arrangement of treatment sessions and other treatment practicalities
H. Other therapies and referrals
I. Treating common ailment
J. Understanding desired outcomes for treatment
K. Learning practical techniques of advanced reflexology
L. Demonstrating practical techniques of advanced reflexology
M. Professional ethics, confidentiality, and hygiene
IV. Requirements for Certification
A. Must be certified in Basic Reflexology
B. Submission log of 20 treatment sessions
C. Written test 25 multiple choice and one scenario with a passing grade of 85% or higher